Woken Up
Sometimes, losing can be a big win
The Adobe Creative Jam Challenge
In February 2021, Adobe put out a Creative Jam for the Adobe XD to create an app that would allow/enable Youth Leadership to promote equity in their communities.
We had 7 days to create a prototype that allowed users to collaborate, communicate, and organize while using Adobe XD's Smart Animation feature.
Simple Enough, Right?
What makes an app that Youths want to use? Definitely not whatever Facebook is.
Interviews
Understanding our demographic, Youth Leaders (12-24), and the popularity of apps in that age group, my team decided to create a social media mobile app that allowed users to create groups for their causes, follow other youth leaders, quiz their knowledge in certain areas, and share/create content that interests them and other leaders.
We focused on questions to understand
Why someone would become a youth leader,

How did they organize events,

What their favorite apps were now,

How often they worked between different groups, and

What causes motivated them the most?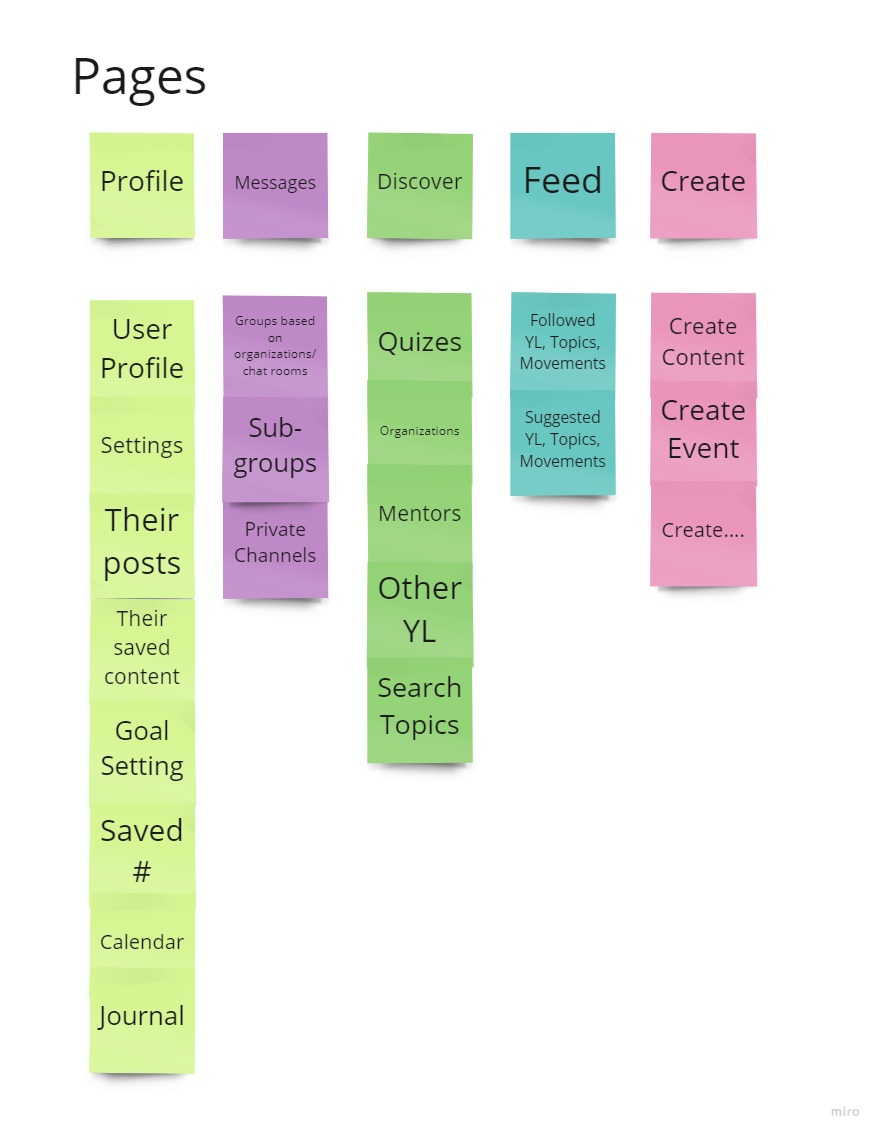 Architecture
After some ideation, we settled on some ideas for the main pages we would have on the application.
We had taken inspiration from some popular apps for the age group 12 - 26, focusing on collaboration, sharing, and discovery.
We wanted a way for youths to learn more about their cause, test their knowledge, and find similar organizations, and for non-youth leaders to learn about these causes and how to get involved.
We were pressed on time, so we started with a set of features that we organized into pages, then added additional cards once we finished sorting, based on complimentary page ideas.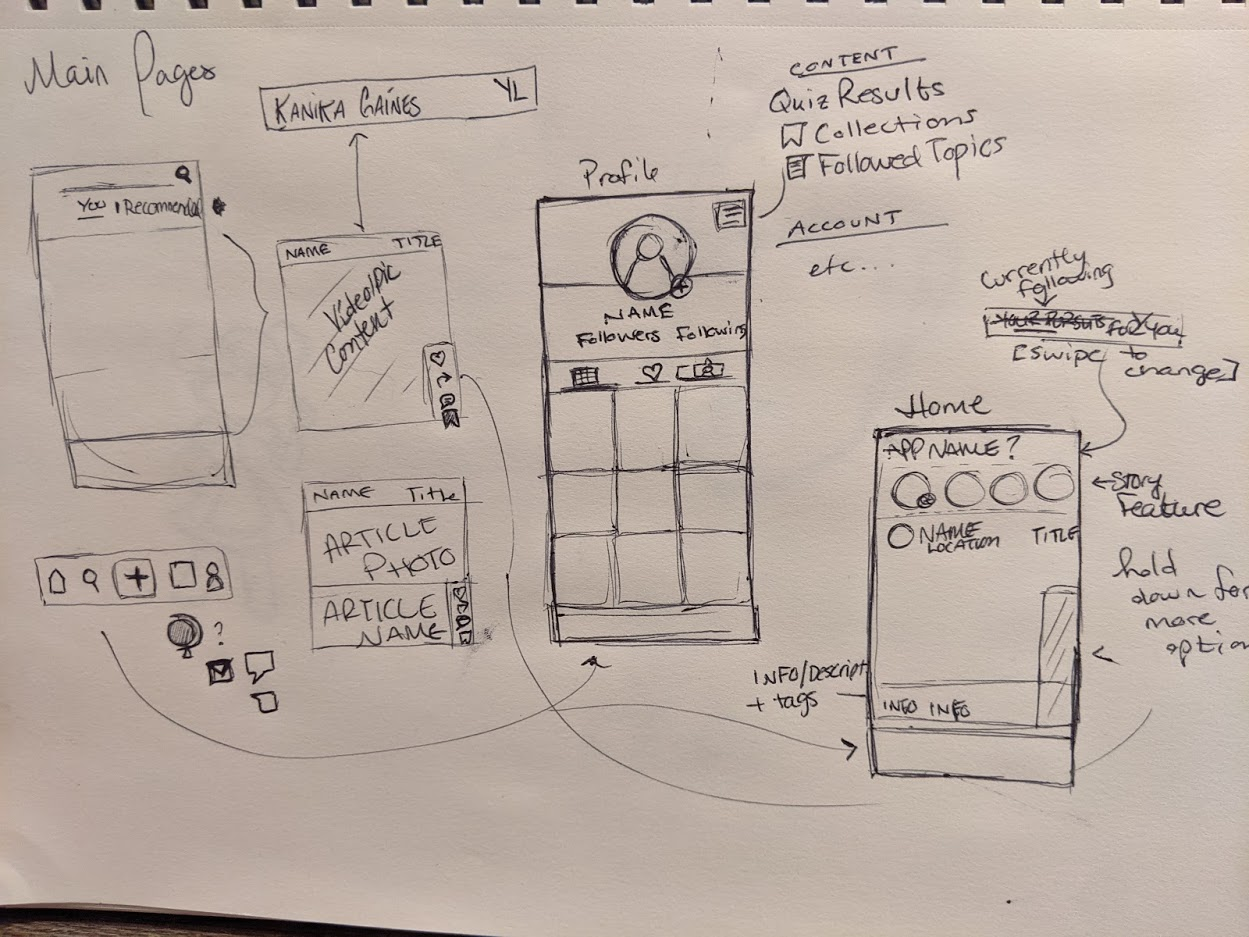 Sketches
Example
I can be an indecisive person at times. So to help me commit to an idea, I always do a series of sketches to start my design and place major pieces for my low fidelity wireframes.
This brainstorming technique is a skill I learned from my days studying studio art. Any form of creative block can easily be pushed through by continuously creating something decent until something wonderful breaks through. At least at this point, we had the cards to help drive the types of pages I would make.
The image shown shows the last sketch I made for the main pages of the application. It was based on some of the earlier sketches, as well as common layouts I was able to find online.
Using this sketch, we were able to quickly place a low-fi wireframe that we built into the high-fi prototype.

Story Board (simplified)
To understand how users would navigate through the application.
Our most basic storyboard consisted of the following:
Sign Up

Select Interests

Set Up Profile

Set Up Youth Group

Share the Group with other Youths in-app.
These steps set up the basic interactions between the user and the application.
We found certain Pain Points while going through the storyboard, like
How do users find/join pre-existing groups?

How do they set up and verify an administrator for those groups?
We used these questions to better define our user flow and create a better experience for users.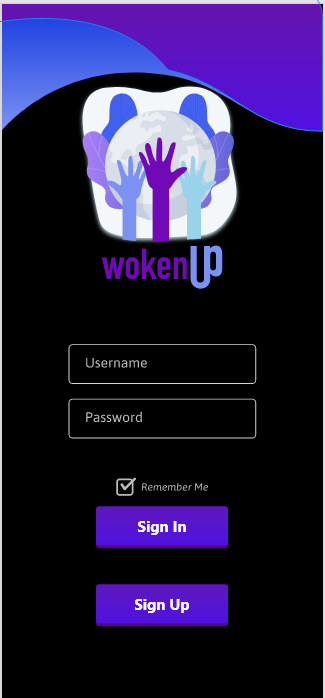 UI Design
So admittingly, by the time we got to the part where we decided on the UI, we had less than 48 hours to complete our submission.
So, we rushed this part to focus time on prototyping.
We went with a dark look that was complimented by light purple and blue hues throughout the app. We had Tiktok in mind, which is the #1 app for our age group. We pulled a style guide from Adobe and used that for all buttons, icons, and other motifs. Primarily designing for Android, we focused our prototype to appeal to people of color primarily, making sure we featured a Hispanic/Latinx user, organizations that focused on racial in-equalities, and even stock photos that feature people of color.
The time limit did make us cut corners on some parts of this application, but making sure our app focused on the group we wanted to create it for is something that I am proud of.
We didn't win. But I still like what we submitted.
Take-Aways
To put it simply, for this whole project, I felt rushed.
There wasn't enough time to send out surveys, we had problems getting the local youth groups to respond to us in time, and we needed that data to help drive our designs. Getting information from Youth Mentors was faster but wasn't our target group. We worked with the information we had and did a lot of online/secondary research into the likes, dislikes, and motivations of prominent youth leaders to help decide how to go forward.
If I could do it again, with the time limitation that we had, I would have focused more on secondary sources to give more time to focus on the UI Design and the animations that the competition wanted.