Escapism
The Ongoing Passion Project that Others can Enjoy Someday
In September 2020, Xbox started its first Game Camp in New Orleans, Louisiana
My team was tasked to create a playable video game (or a playable demo) in the duration of the camp (6 months)
Other than that requirement, we had free range. so my team and I got started on coming up with ideas for our game. We all brought forward ideas, then took a vote, and luckily enough, the team went with my idea! We iterated on the main concept for about a week and are working on something we've all agreed on.
What we have now is a 70's sci-fi-themed, survival horror experience where the player must navigate through an ominous facility, dodging the monsters that are patrolling the halls, uncovering the secrets of what's happening in that facility and how they fit into it all.
Since the game concept was mine, the team voted me to serve as Creative Director for the game. In this role, I ended up working with just about every team to give direction and lend a hand. This meant my roles included
Lead Game Designer -focusing on the level layout, combat/health system, and more

Lead Narrative Designer - deciding the overall path of the story, creating flows, and a LOT of in-game lore

Content Designer - figuring out objectives, findables, side quests, you name it.

Concept Artist - creating mood boards and drawing out rooms, assets, items, characters, and environmental sketches so that the art team could create 3D models and such.
Though the camp ended in March 2021, we're still in development of our larger game. We were able to give a barebones demo of our game but since the camp has ended, we've expanded on some of our work and are in the process of setting up an independent game studio, Rogue Wave Games.
I had to wear so many hats, I think I needed another head.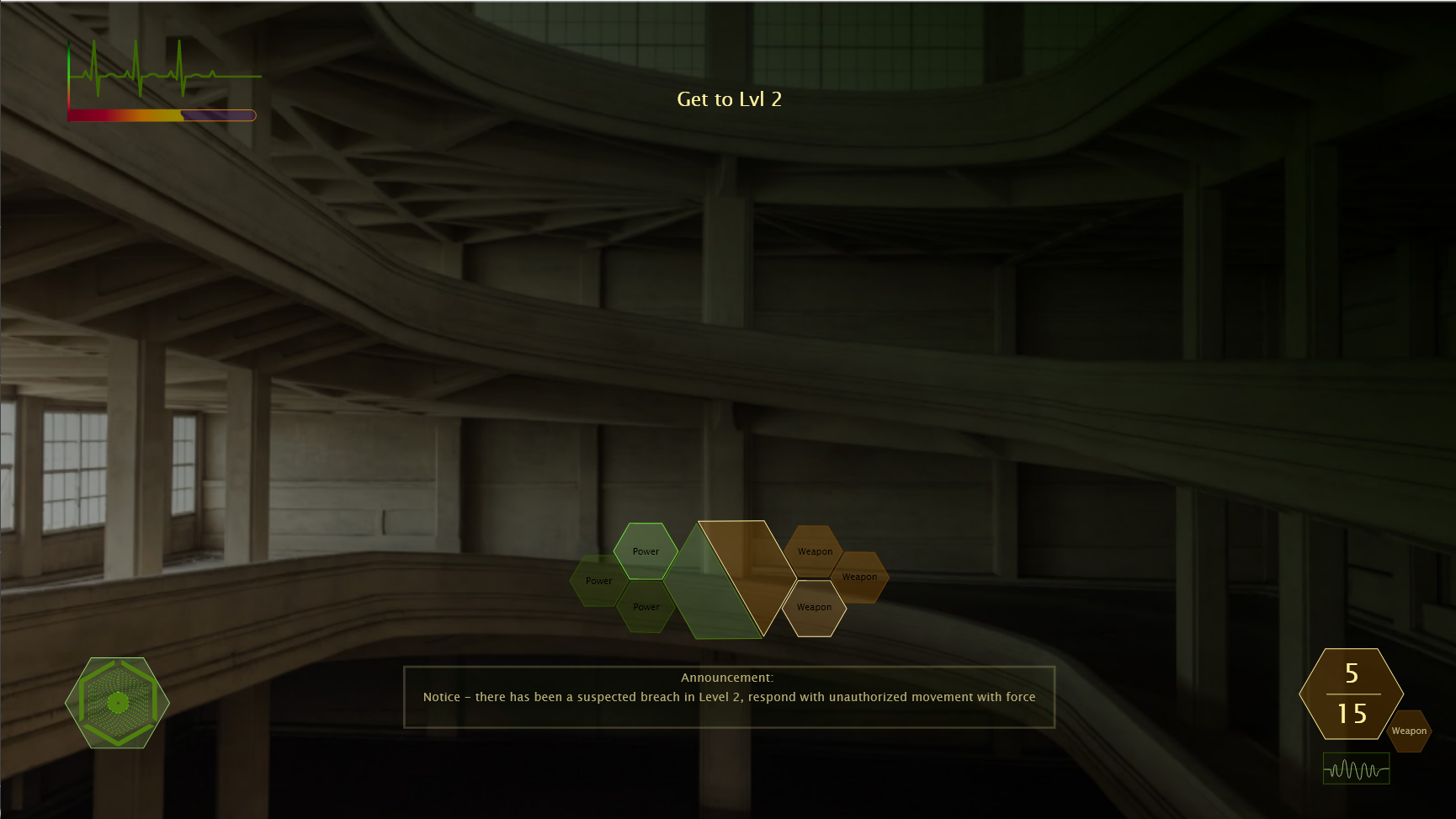 Wireframes
We didn't start designing with the intention of making wireframes, but to help place the UI, we created a set to help the dev team place the assets in Unity (then later in Unreal 4 after we swapped platforms).
We started with a UI Page that showed every asset the player would be able to see. We researched successful game UIs and came to the decision that less is more, so our intention is that every asset will only appear when needed, allowing the player to be fully immersed in the game.
We used Adobe XD to create these mostly High Fidelity Wireframes, going through about a dozen iterations to agree on the screen shown right.
3
Self-inflicted All Nighters