The Virtual Art Gallery
A lovely experience for the ones that enjoy lovely experiences.
Role & Responsibilities
Primary UX Designer
User Researcher

UX Designer

UI Designer
UX Deliverables
Primary Deliverables
User Flow Diagrams

High Fidelity Wireframes

Visual Design Style
Creating a Semi-Virtual Art Gallery Experience
I say Semi-Virtual because I lack the equipment to truly design for a virtual space.
But the project entailed creating a mobile application that would allow users to tour local art galleries at their convenience.
From the start, there was a wide variety of information I had to gather, including my target audience, their desires, and how to improve any exsisting processes.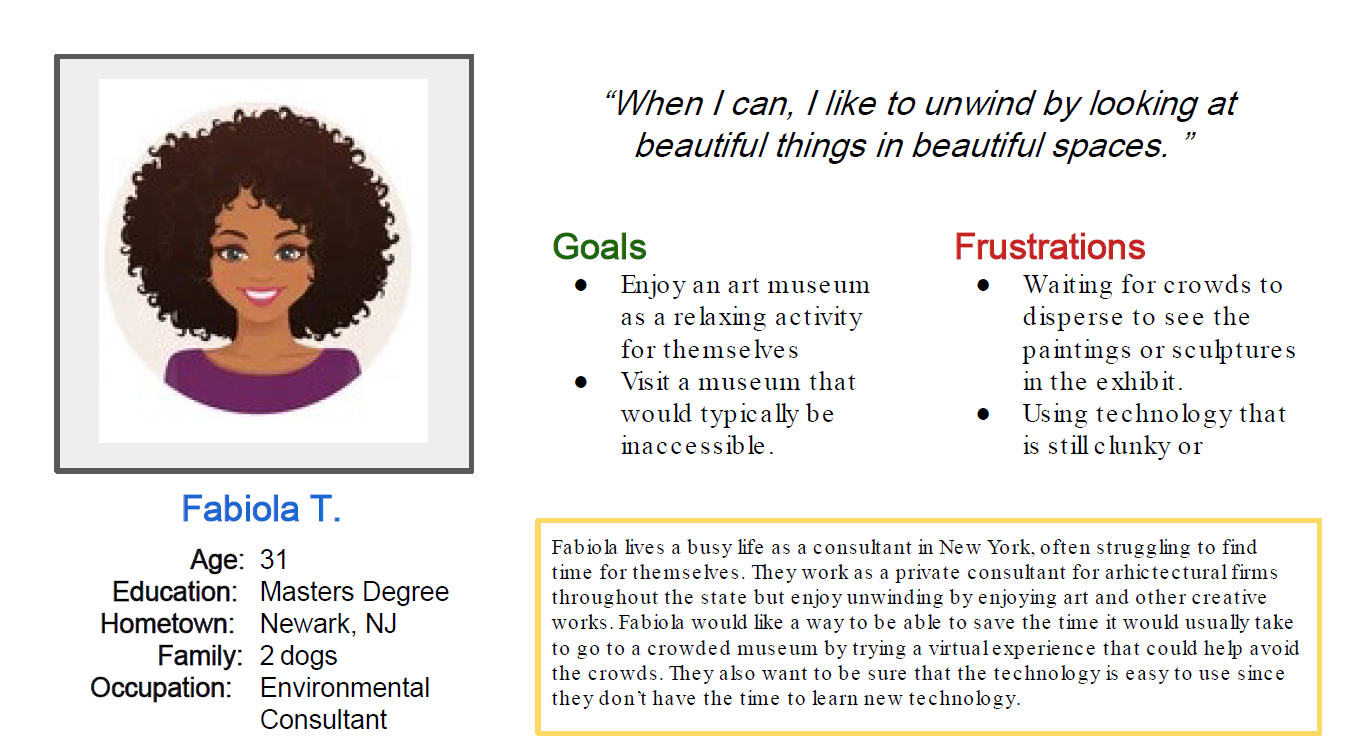 Personas
Example
I did several interviews which helped me create a pair of personas, one of which pictured.
Creating a Persona helped me to determine the target audience I needed. Since this is a personal project, I had to do a little more work to get the answers I needed to direct my work.
I created these personas by conducting a series of user interviews and creating empathy maps based off those interviews in order to find the similarities between the information. I focused on what motivated people to go to a gallery showing and particularly how they enjoyed that experience.
The main thing I learned is that people enjoy viewing pretty things, in pretty spaces, undisturbed by other people. If they do go with someone else, it's usually a friend or two and they have a light conversation.
This left me with an idea to allow users to view comments on works of art, and to be sure that the space the art is hosted in is just as detailed as the art itself.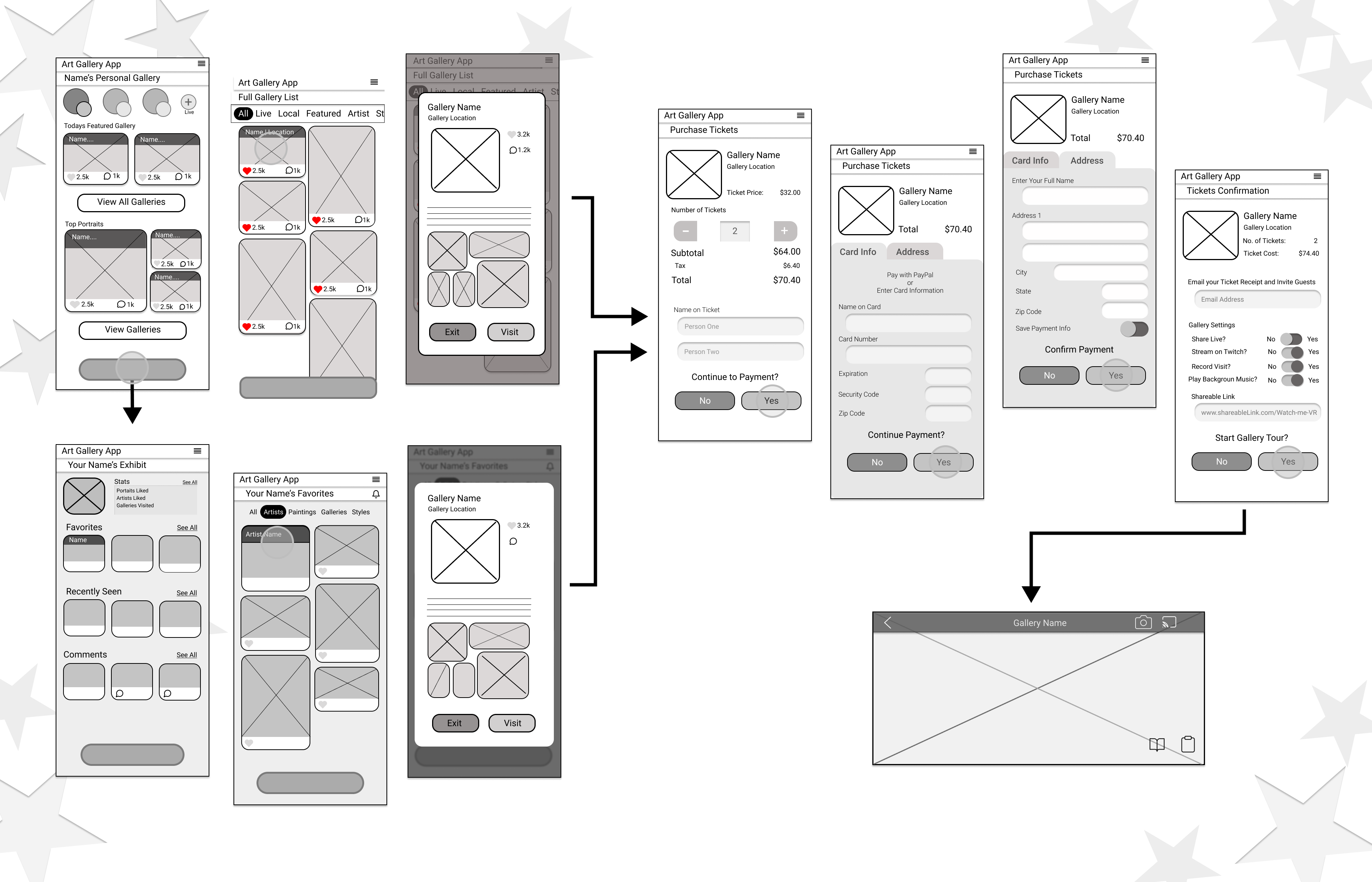 User Flow
I mapped out the users' steps to see how I could simplify their journey to help them reach their most important goals with the product.
Results:
With that information, I was able to make the diagram on the left which showed the most common ways users went to the Virtual Gallery. What I didn't expect was that there was usually more browsing and searching than I had expected at first, meaning I needed to make it easier to find new galleries. Though, it was a good learning exercise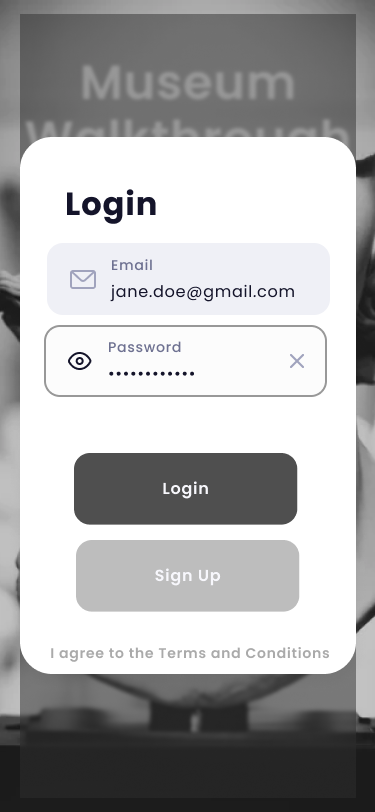 Wireframes
At the beginning of my design process, I created low-fidelity wireframes for testing purposes (see the frames shown above).
This allowed me to test a preliminary user flow with a small set of pages. I focused on the main pages; landing screens, login, home page, profile, gallery search, and a gallery selection page.
These wireframes were created in Figma, and prototyped there as well. I ended up doing only 3 iterations to get a look I was proud of.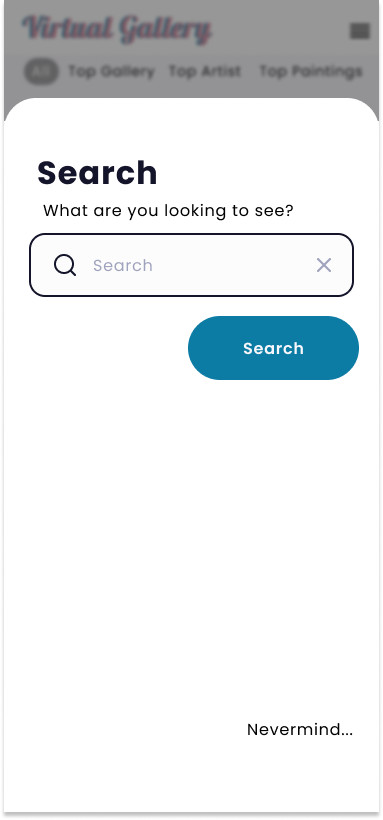 UI Design
I actually created a gradient to help with the color pallet on this design!
I wanted something clean and smooth, to complement the relaxing atmosphere that should surround the design. I went with this idea directly based on the User Interviews, where everyone admitted to going to a gallery as a way to relax/escape life for a moment.
Currently, I'm focusing on creating the Prototype with the current User Flows
What have I learned?
Previously, I've focused on doing one part of a project before passing it off or collaborating with someone else for the rest. For this project, everything has been on me, from Ideation to Prototyping and all the Research in between.
Has this been rewarding thus far? Absolutely.
Would I take on a personal project like this again? Probably not.
I find that I'm more comfortable in a team setting still, and since this was a personal project, I wasn't that motivated to push myself as if I had at least a teammate working alongside me.
4
Iterations and Counting